Talybont on Usk – Our Community – Past to the Present
A record of our community spanning the centuries has been long over due and with encouragement I have spent several years building a collection of generously donated images – both old and new. In addition listening to local knowledge and research have resulted in this website. This format will allow users to readily access the different sections, contribute further images, make comments and possible corrections – dates have been problematic – to what must remains as work in progress. John Jones.

TALYBONT-ON-USK COMMUNITY
The community is a combination of three parishes, being Llandetty,  Llanfeugan and Llansantffraed, that were united in 1985 under one community council.  Unusually the three churches are on isolated sites away from the villages with the first two lying to the extreme north of extensive parishes and the third across the Usk. In 1957 the entire area was included in the Brecon Beacons National Park. The 2011 census returns revealed that the population numbered 1923 within 837 households.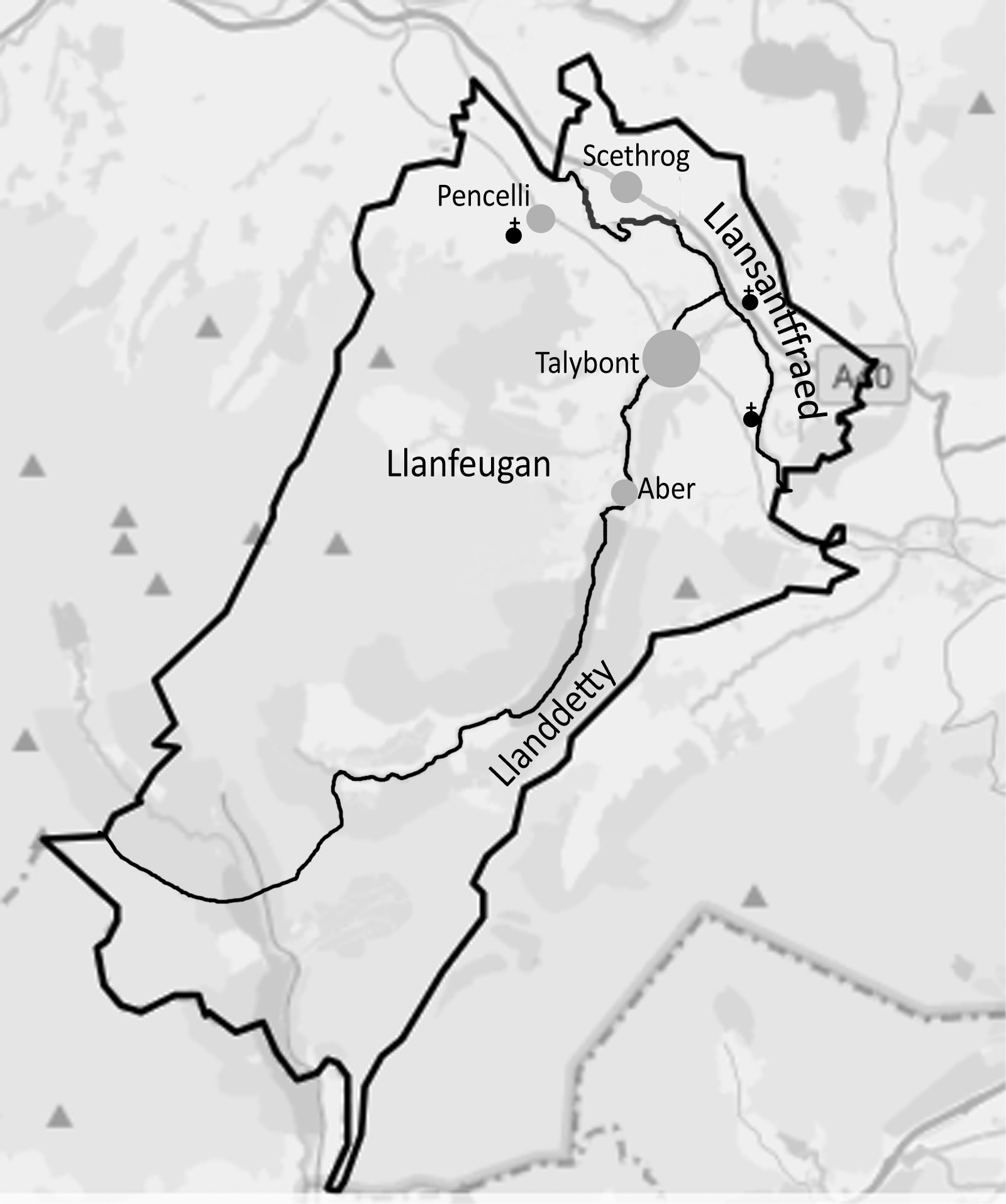 LOCATION
The Usk valley remains an important route leading to the location of four of the villages in our community. Scethrog and Llansantffread lie on the rising land north of the Usk flood plain backed by sloping fields and deciduous woodland along the A40 with Allt yr Esgair the highest point at 393 metres. Talybont, Cross Oak and Pencelli are situated on the southern side on the B4558.  Talybont  is in a lower position to the south of the river with arable land to the north on the flat plain and woodland and pasture on the rising land to the south. Cross Oak and Pencelli are  in a higher location above the flood plain surrounded by enclosed pasture with patches of deciduous woodland. Aber is a hamlet linked to Talybont by an unclassified road where the Clydach brook meets the main Caerfanell river, which in turn joins the Usk. Land use here is dominated by the reservoir with permanent pasture in the remaining valley floor and predominantly conifer plantations on the slopes rising steeply to the surrounding open moorland with Waun Rydd to the west at 769 metres.
Where is Talybont on Usk?